Antiques, artwork & fragile items shipped around the world
We offer full packing and case making services for the shipping of artwork, antiques and other fragile items around the world.
We have an array of packing options available to us, including making bespoke packing cases to meet individual needs and requirements. Our packing staff fully examine each piece to ensure the most appropriate and safest method of packing is used for the method of transport being used.
Our warehouse staff take pictures of all goods upon arrival into our warehouse and send a full condition report the customer before proceeding to pack. All goods are kept in the safe/fragile area of the packing warehouse.
We deal with interior designers, antique dealers, architects, art galleries, and individual collectors shipping all manner of antiques, artwork, and fragile items worldwide.
Express Export has over 50 years of experience in customs procedures and regulations worldwide with shipping artwork, antiques and fragile Items. We can also advise on CITES requirements or LACEY ACT requirements if applicable.
You can rest assured that your cargo will be in safe hands when you use us. Full Insurance cover is available upon request.
For a free quotation please call us on 0800 454648 with the weight and dimensions of your consignment, along with the collection and delivery details.
You can also email either
john@express-exports.co.uk or scott@express-exports.co.uk for further information.
Related Case Studies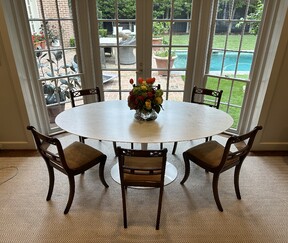 Antique dining chairs to USA
Antique dining chairs sent by air freight from the UK to the USA
Find out more